Between device savings, IT efficiency, and more fluid productivity for employees, the Microsoft Surface Laptop 5 and Microsoft 365 are more than the sum of their cost.  Lightning-fast performance, sleek portability, an enhanced camera for more engaging video calls, and built-in security enable impactful work on your terms.
Do it all, all at the same time
Take video calls, co-author presentations, and run analytical models simultaneously. Spreadsheets with a million lines, or demanding more from your CRM, can't stop you. Now built on the Intel® Evo™ platform featuring the 12th Gen Intel® Core™ i5 or i7 processors, Microsoft Surface Laptop 5 delivers fast multitasking power.
Enabling powerful AI with Microsoft Surface
The age of AI is upon us, and Microsoft is powering it.  Microsoft Surface is the perfect endpoint to experience Microsoft's AI innovations.
Free your CPU and gain powerful NPU-enabled AI experiences in your online meetings.  Smarter processing enables work productivity and smarter collaboration, pushing AI workloads to your NPU allowing your CPU to focus on other workloads.  NPU device computation is much more sustainable than cloud computation.
Local processing is secure processing with AI features instantly available and data protected within the device itself.  Reduce your reliance on connectivity with responsible AI that gives you higher data privacy across Windows.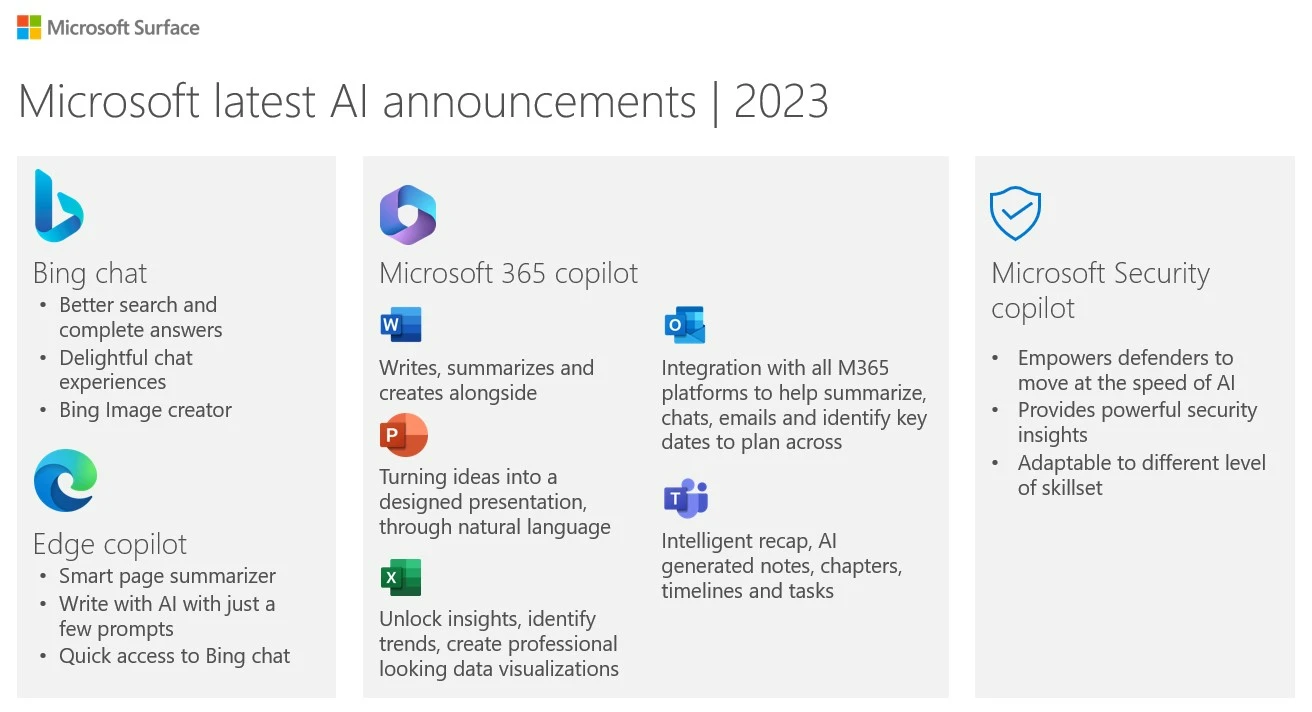 Employee Experience
Faster boot time with 21% fewer reboots.  Surface makes you look and sound better during your Microsoft Teams and Zoom calls. With automatic framing, portrait blur, eye contact and voice focus.  Enjoy face-to-face calls that keep you in focus. Enhanced camera experiences, powered by new Windows 11. It has interactive features and automatically adjust to lighting and skin tones.
Now boasting up to 17 hours of battery-life and the ability to charge to 80% in just under an hour, empower your team to do their things their way all day.
IT Efficiency
Many organisations can consolidate multiple devices by bundling the Surface Dock with their Surface device.  The ability to work on the move, in the office and in the home office quickly and efficiently supports the Hybrid work model.
Being a solid device, there is less staff time for ongoing maintenance.  Surface Laptop 5 is a secured-core PC, designed to block sophisticated firmware attacks and help to ensure that the device launches in a safe state.
A decade of design, innovation and creation
Innovation isn't a destination, it's a journey.  Ten years ago, Microsoft Surface was a tablet that could replace your PC. It was designed to bring together the best of Microsoft to empower businesses of all sizes. The journey began with a bold vision for a new form factor and a belief that you shouldn't have to choose between versatility and performance.
Today, it's a line up of modern devices that supports every mode and style of work. Surface is helping companies embrace a new era of Hybrid work. A flexible working model that gives their people the freedom to work their way from anywhere. While ensuring devices are secure, efficient, and more easily manageable.  Power your next breakthrough with Microsoft Surface For Business, with the Microsoft Surface Laptop 5.
Introducing Surface Laptop 5
Surface for Business is Powerful for employees, Consistent for IT & Secure for all. Reach out if you want to explore the Microsoft Surface range at your next device lifecycle.