Basic vs. Standard vs. Premium
To Get more out of Microsoft365, first we must understand the differences between the Microsoft 365 Business Subscriptions.  All of them bring the core cloud services that are frequently used.  Standard brings the apps.  Premium brings the security.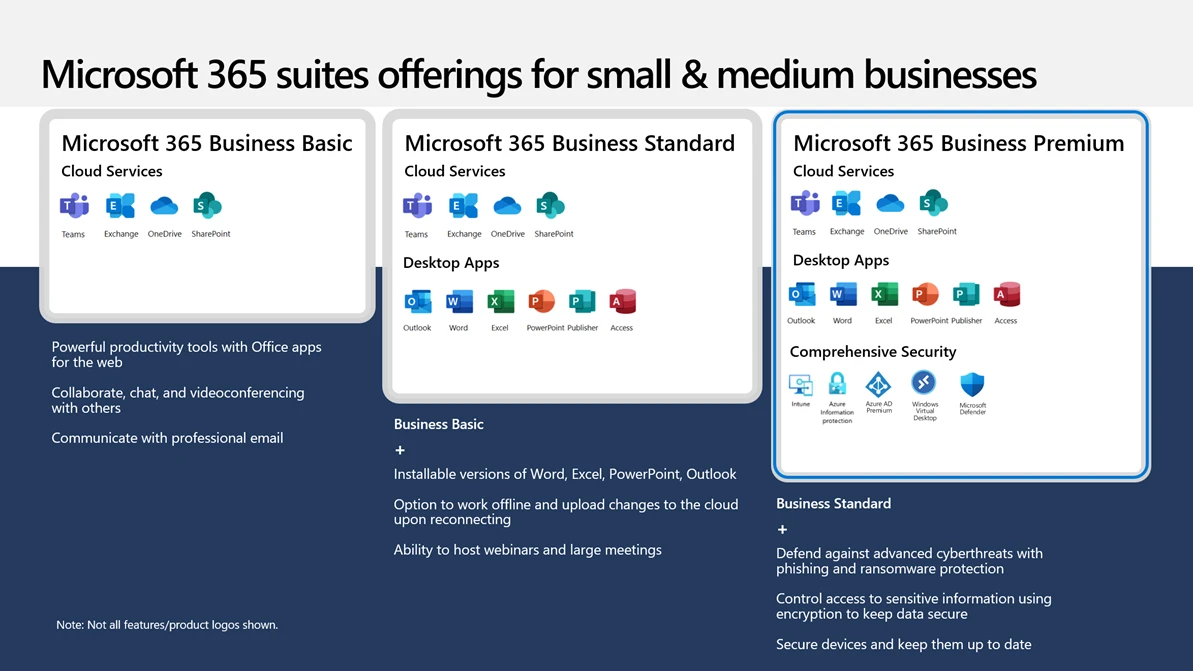 So think Services > Apps > Security when you look at the main 3 Microsoft 365 Business Subscriptions.
Typical usage scenarios for the 3 could be:
Use Basic for a sales rep who only access emails and the occasional document or spreadsheet from their mobile phone.
Use Standard for an end-user who needs the Desktop Applications, but only accesses the computer system from within your protected office network.
Use Premium for an end-user who needs the flexibility of securely working from everywhere on multiple devices.
Are you using the built-in Cloud Storage?
All of the Business Subscriptions provide cloud storage to your end users – but incredibly not everyone uses it to their advantage.  Perhaps some people just don't know it's there, or don't know how to unlock it in their business.
Microsoft OneDrive and Microsoft SharePoint are the storage powerhouses built-in to Microsoft 365.
OneDrive provides individual storage for each user to store their personal files.  In Windows you can easily protect common areas like the Desktop, Documents and Pictures.  You can protect even more using policies in a well structured environment.
SharePoint provides central storage repositories for Teams & Groups.  In Windows you can use "Files On Demand" to access large data repositories and cache frequently used files and specified locations to your device.  On Mobile you can access these locations using the Microsoft Apps available on your mobile vendors App Store.
Storing data in these environments gives you access to enterprise grade security, governance and compliance controls to help you govern access to your data.
For Data Protection, most backup vendors provide tools and services to Back Up your Microsoft 365 data to help you comply with your business's data protection strategy.
Hidden Gems
OneNote
OneNote is a digital note-taking app that provides a single place for keeping all of your notes, research, plans, and information — everything you need to remember and manage in your life at home, at work, or at school. In OneNote, notebooks never run out of paper.
Planner
Planner is a light weight, mobile and web-based application that comes with most Office 365 for business subscriptions. With Planner you and your team can to create plans, assign tasks, chat about tasks, and see charts of your team's progress.
Whiteboard
Microsoft Whiteboard in Office 365 is a collaborative digital canvas that can be leveraged for effective meetings and engaging learning. You can use the Microsoft Whiteboard to collaborate with other people and accomplish many activities, from brainstorming and planning to learning and workshops.
Bookings
A simpler way to organize schedules and manage appointments. Save time when scheduling with Microsoft Bookings. Customize appointment details, booking requirements, and specify service providers to streamline the booking experience for you and your customers. Bookings is integrated with your Microsoft 365 or Office 365 calendar to help your customers quickly find available times and avoid double-booking. With Bookings, you'll spend less time scheduling and more time meeting with customers.
Is your Microsoft CSP helping you?
The world of Microsoft is huge and often confusing.  Your Microsoft Cloud Solution Provider is there to help as your trusted business advisor.  If they are "just billing you" for licenses, perhaps they aren't doing your business justice.
The exploration of cloud apps and services that could benefit your organisation along with Customer Support, Escalations to Microsoft, Subscription Management and Cost Management is all part of the Microsoft Partner.
At CTO we help our customers grow through office automation, guiding them through their cloud journey and getting the most out of their subscriptions.
Can you say the same about your Microsoft CSP?